Remembrance Sunday is a day to commemorate the contribution of
military and civilian servicemen and women in the two World Wars and
later conflicts.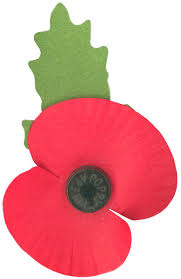 "They shall grow not old, as we that are left grow old:
Age shall not weary them, nor the years condemn.
At the going down of the sun and in the morning,
We will remember them."
You can see a short video based on Laurence Binyon's poem "For the Fallen" by clicking here.
We remember especially the men featured on our War Memorial & buried in the Churchyard:
11/11/2018 The Centenary of the end of the First World War
A very Special Service at St Botolph
Such a great community event yesterday in this setting.
Church had standing room only for the morning service, with participation from so many village groups.
Over 100 stayed after to enjoy the refreshments and look at the display showing details of each
of the 52 village men who never returned home.
At 6.45 pm a bugler was floodlit at the top of the tower, sounding the Last Post,
followed by a beacon being lit in the churchyard and a 15 minute peal of bells,
all part of a Nationwide Tribute taking place in almost every church in the UK.
Hot soup and a further chance to see the presentation of "GrimstonRemembers"
and try to absorb the details on the display boards.A busy, tiring, but immensely successful community event.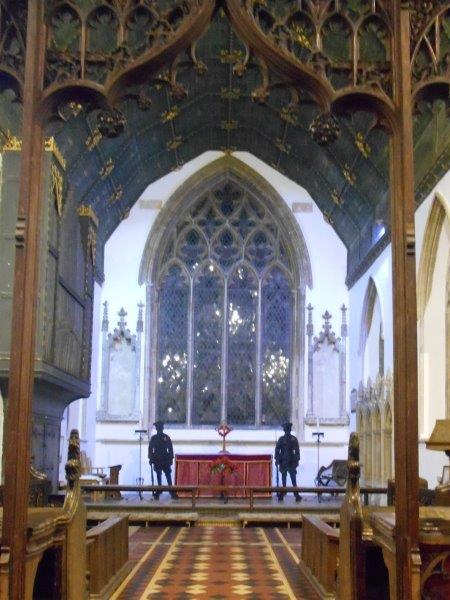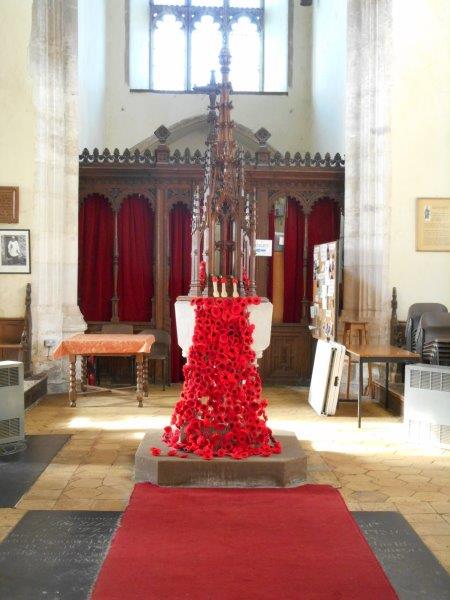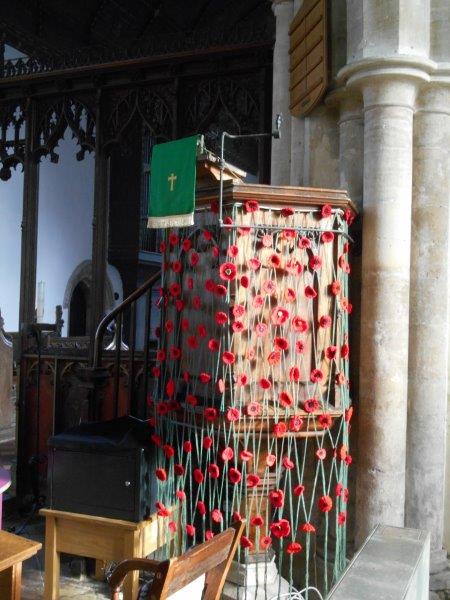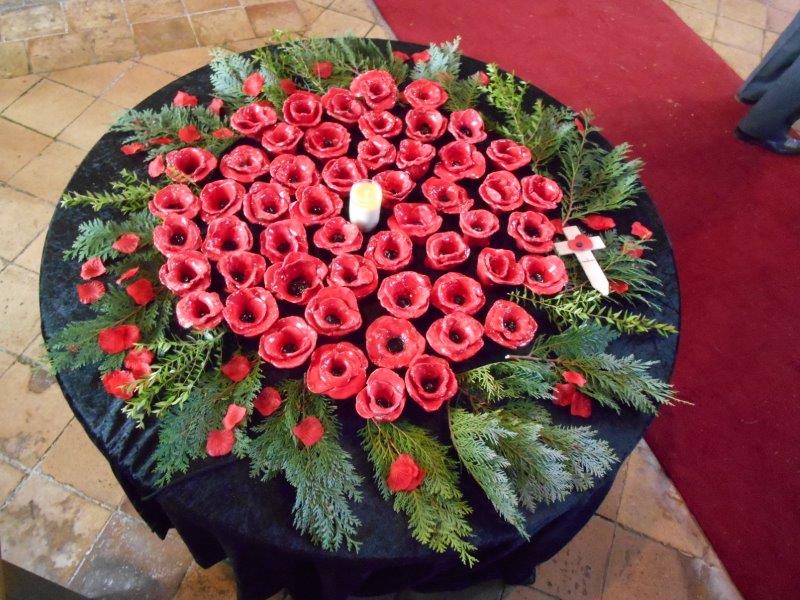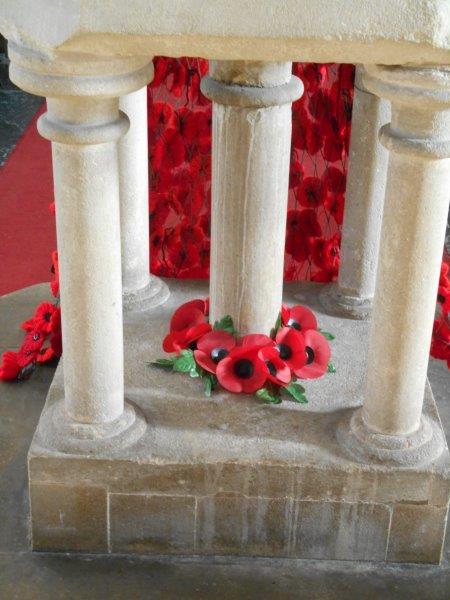 Poppy displays by the Greenfingers Gardening Club and each of the 52 poppies above represent a man who never returned.
---
We are indebted to Ian and Steph Hall for their dedicated work researching the men of Grimston who fell. You can read of their lives and their heroic ends in their booklet "The Way We Were" © .
This opens up in a new page if you click here.
1914 - 1918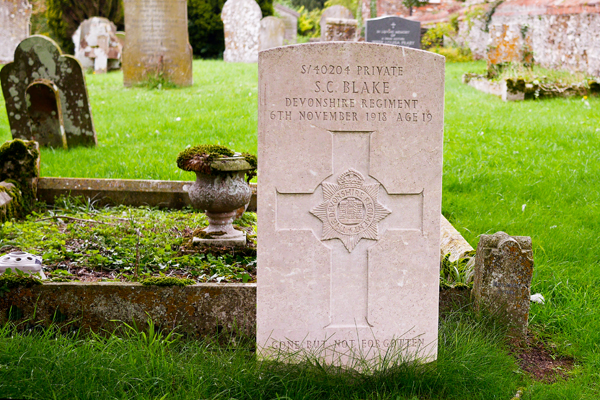 Blake, Stanley Claxton
Rank: Private Service No: S/40204 Date of Death: 06/11/1918 Age: 19
Regiment/Service: Devonshire Regiment 53rd Bn.
Additional Information: Son of Charles Blake, of Keepers Lane, Congham, King's Lynn
Bunting, Edward
Rank: Private Service No: 15561 Date of Death: 07/02/1919 Age: 24
Regiment/Service: Norfolk Regiment 9th Bn.
Hooks, William Henry
Rank: Private Service No: 47930 Date of Death: 04/11/1918 Age: 20
Regiment/Service: Lancashire Fusiliers 2nd/5th Bn.
Additional Information: Son of William and Mary Elizabeth Hooks, of Common Lane, Grimston, King's Lynn.
Hunter, Frederic
Rank: Serjeant Service No: 20449 Date of Death: 17/06/1920
Regiment/Service: Essex Regiment transf. to (613792) Labour Corps
Turvey, Thomas Henry
Rank: Gunner Service No: 70655 Date of Death: 03/05/1918 Age: 25
Regiment/Service: Royal Garrison Artillery 277th Siege Bty.
Additional Information: Son of Elijah and Alice Lake, of Low Rd., Grimston, King's Lynn.
** Albert Sayer's name was later scrubbed out, and two more added for the 1939-1945 war. Information given on the decorated Roll of Honour which hung in church until it became too damp to leave there gives a little more details, and some of these have been later corrected. The full list follows…
Rumbles, Alfred : Royal Navy - went down in HMS Pathfinder September 5th 1914
Franklin, Lloyd F : 1st Norfolk Regiment - killed in action Hill 60 Flanders April 21st 1915
Mayes, George W : 1st Norfolk Regiment - killed in action Flanders July 12th 1915
Ellerby, Cecil A : 5th New Zealand Regiment - killed in action Gallipoli August 8th 1915
Cooper , Frederic C : 7th Suffolk Regiment - killed in action France October 1915
Padgett, William : 7th Norfolk Regiment - killed in action Loos France October 13th 1915
Symonds, Arthur : Royal Fusiliers - killed in action Balkans November 7th 1915
Smith, James T : 1st Essex Regiment - Wounded in Gallipoli, died in hospital November 28th 1915
Rudd, William : Norfolk Regiment - killed in action Dardanelles December 4th 1915
(

However he is not listed on the Norfolk Regiment's List of those who died in the Great War)
Rudd, Stephen (on churchyard war memorial but not on framed list) : 2nd Norfolk Regiment - died Mesopotamia July 27th 1916
Eggleton, Charles (not on churchyard war memorial) : 1st Norfolk Regiment - died from wounds July 29th 1916
Mayes, Ernest E : Royal Engineers - killed in action France January 4th 1917
Sayer, Albert : Norfolk Regiment - killed in action France January 27th 1917
However he is not listed on the Norfolk Regiment's List of those who died in the Great War and his name was erased from the war memorial (so perhaps he was later found alive)
Stebbings, William : Royal Sussex Regiment - killed in action France March 15th 1917
Twite, Jonathan W : Royal Garrison Artillery - killed in action France April 12th 1917
Blake, John : 5th Norfolk Regiment - killed in action Palestine April 19th 1917
King, Reginald : King's Shropshire Regiment - wounded in France died at Rouen May 15th 1917
Bird, William : Royal Engineers killed in action France July 13th 1917
Bunting, Charles : 5th Norfolk Regiment - Died of wounds Alexandria August 3rd 1917
Barnes, Alfred E : 8th Norfolk Regiment - wounded at Ypres died Poperigne August 3rd 1917
This was a mistake: he was wounded near Inverness Copse Zillebeke, and died at the casualty Clearing Station at Brandhoek on August 16th
Spooner, Frederic : Middlesex Regiment - killes in action near Ypres Flanders August 17th 1917
Hammond, Walter W : 8th Norfolk Regiment - killed in action France October 22nd 1917
Actually it was at Poelapelle, Belgium
Brinkley, Frederic : Royal Fusiliers - killed in action France October 30th 1917
Padgett, Arthur : Royal Garrison Artillery - died from wounds Etaples France November 17th 1917
Hardy, George : 1st Cambridgeshire Regiment - killed in Flanders September 26th 1917
Seaman, Albert : Rifle Brigade - killed in action France March 24th 1918
Boldero, William H : Royal Navy Division - killed in action March 24th 1918
Smith, Samuel : 9th Norfolk Regiment - died on or after April 15th 1918
Todd, Arthur W 17892 (military medal holder) : 9th Norfolk Regiment - died on or after April 15th 1918
Turvey, Thomas E : Royal Garrison Artillery - wounded in France died at Edinburgh May 3rd 1918
Smith, Robert S : Essex Regiment - killed in action September 21st 1918
Matsell, Arthur : Sherwood Foresters - killed in action October 3rd 1918
Humphrey, Walter M G : King's Royal Rifles - killed in action October 23rd 1918
Hooks, William : Lancashire Fusiliers - died in hospital November 4th 1918
Blake, Stanley G : Devon Regiment - died in hospital November 6th 1918
Cobb, Frederic H : Died in Prisoner of War Camp Germany November 1st 1918
Sheppard, Reginal V : Army Service Corps - died in hospital February 13th 1919
Bunting, Edward : 9th Norfolk Regiment - died in hospital February 17th - In fact it was on the 7th. 1919