"THE MALLARD" is published every month and distributed free to the residents of Great and Little Massingham with the support of the Great Massingham Parish Council, the Parochial Church Council and Massingham Village Hall Committee. It includes news stories, notices, forthcoming events, church services, advertising for local businesses, and anything else that is felt to be of interest to Massingham residents.
Copy for publication can e-mailed to the editor at the address below. Deadline for articles or news is the 20th of each month. Publication and distribution takes place at the week-end as close to the 1st of the month as possible.
The current issue can be read at Scribd. Click the cover but allow a couple of minutes for the whole magazine to load.
Below you can click on the archive to see other editions.
You can contact the editor at: mallard.editor@btinternet.com
---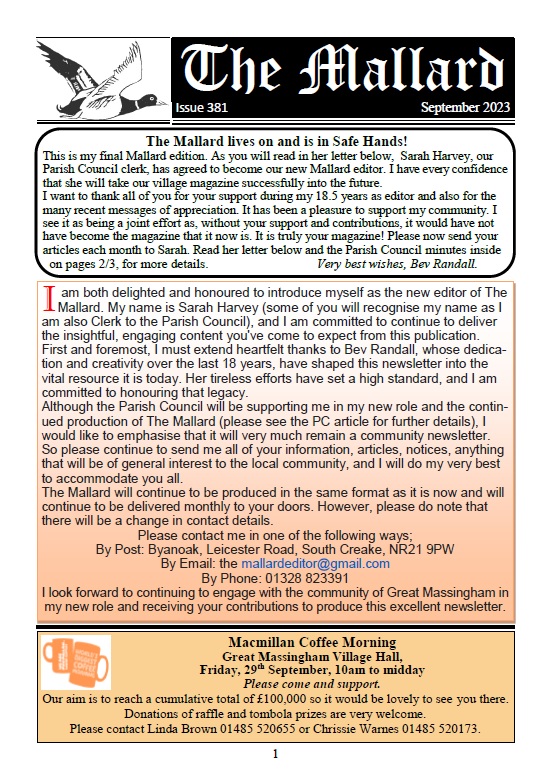 ---
2023
| | | | | | |
| --- | --- | --- | --- | --- | --- |
| | | | | | |
| | | | | | August 2023 |
| | | | | | |
| July 2023 | June 2023 | May 2023 | April 2023 | March 2023 | February 2023 |
2022
---
| | | | | | |
| --- | --- | --- | --- | --- | --- |
| | | | | | |
| | December 2022 | November 2022 | October 2022 | September 2022 | August 2022 |
| | | | | | |
| July 2022 | June 2022 | May 2022 | April 2022 | March 2022 | February 2022 |
ARCHIVE 2021
| | | | | | |
| --- | --- | --- | --- | --- | --- |
| | | | | | |
| Dec/January 2022 | November 2021 | October 2021 | September 2021 | August 2021 | July 2021 |
| | | | | | |
| June 2021 | May 2021 | April 2021 | March 2021 | February 2021 | December & January 2021 |
---
ARCHIVE 2020
| | | | | | | |
| --- | --- | --- | --- | --- | --- | --- |
| | | | | | | |
| December & January 2021 | November 2020 | October 2020 | September 2020 | August 2020 | July 2020 | |
| | | | | | | |
| June 2020 | May 2020 | April 2020 | March 2020 | February 2020 | January 2020 | |
---
ARCHIVE 2019
| | | | | | |
| --- | --- | --- | --- | --- | --- |
| | | | | | |
| December 2019 | November 2019 | October 2019 | September 2019 | August 2019 | July 2019 |
| | | | | | |
| June 2019 | May 2019 | April 2019 | March 2019 | February 2019 | January 2019 |
---
ARCHIVE 2018
---
| | | | | | |
| --- | --- | --- | --- | --- | --- |
| | | | | | |
| December 2018 | November 2018 | October 2018 | September 2018 | August 2018 | July 2018 |
| | | | | | |
| June 2018 | May 2018 | April 2018 | March 2018 | February 2018 | January 2018 |
---
ARCHIVE 2017
| | | | | | |
| --- | --- | --- | --- | --- | --- |
| | | | | | |
| December 2017 | November 2017 | October 2017 | September 2017 | August 2017 | July 2017 |
| | | | | | |
| June 2017 | May 2017 | Aril 2017 | March 2017 | February 2017 | January 2017 |
---
ARCHIVE 2016/15
| | | | | | |
| --- | --- | --- | --- | --- | --- |
| | | | | | |
| | | | | | |
| Dec/Jan 2016 | Nov 2016 | Oct 2016 | Sept 2016 | August 2016 | July 2016 |
| | | | | | |
| June 2016 | May 2016 | April 2016 | March 2016 | Feb 2016 | Jan 2016 |
| | | | | | |
| December 2015 | November 2015 | October 2015 | Sept. 2015 | August 2015 | July 2015 |