Grimston Bells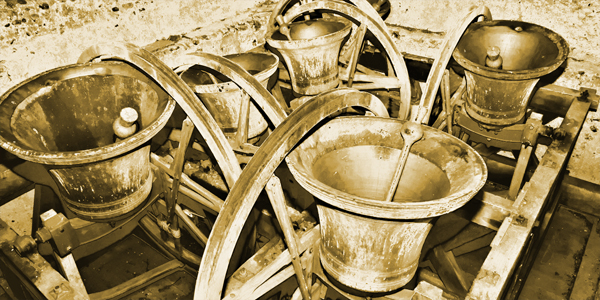 "A bell's not a bell 'til you ring it A song's not a song 'til you sing it Love in your heart wasn't put there to stay, Love isn't love 'til you give it away!"
Oscar Hammerstein II
Bell ringing is a team activity that stimulates the brain and helps keep you fit …it also makes a glorious sound.
You can hear the Bells of St Botolph's and St Mary's Churches by clicking here and then on the audio file.
(recordings courtesy of Chris Richmond)
Bells are used throughout the world during religious services.
However, in England during the 1600's, a way of ringing Church bells developed that made a sound completely different from anywhere else in the world. Although practised throughout the United Kingdom, of the 6000 or so Churches with change ringing bells, only 215 are in Wales and only 20 in Scotland. It is a peculiar English tradition.
Bell ringing music is like no other. It is not written on a standard score, is performed entirely from memory and is learnt by the path of the order that each bell sounds.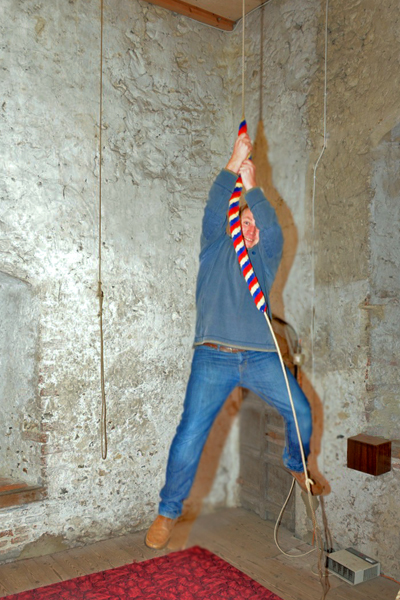 Each bell is a different note in the music scale, the sequence starts with the highest note and ends with the lowest note. This sequence is repeated over and over again. To generate a more interesting sound, the order of the bells can be changed hence the name "Change Ringing".
Ringers are proud to continue this old tradition, passed down from generation to generation by hands on tuition.

From 1600, rules soon evolved and changes could be worked out, written down and learned by heart to create patterns where the bells are never sounded in the same order twice. These compositions were named methods and soon hundreds were created, often named after the cities they were first rung in such as Norwich, London or Cambridge.
Learning can be fun - you can reach new heights hanging on to the "Sally". All photo's courtesy of Mike Harding
The first true peal (an extent of ringing with over 5 000 different variations in) was believed to have been rung on May 2nd 1715 at St Peter Mancroft, Norwich.So here in Norfolk, we are at the very heart of the history of bell ringing.At Grimston, there are 6 bells dating from 1816. They are tuned to F, Eb, Db, C, Bb, and Ab and at Great Massingham they have 4 bells from 1903 and they are tuned to C, B, A,and G.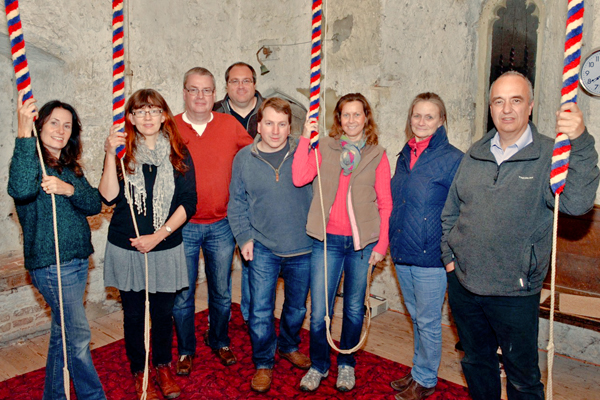 The Bell Ringers practice on Tuesday evenings at Grimston from 7.30pm to 9pm and at Great Massingham on a Friday from 7.30pm to 9pm. We are a very social team and have a lot of fun together. We can usually ring the bells at either church for any special occasion that can be requested ….. weddings, special services and any other event that may be happening.
New members are welcome to come and visit and have a go. Really all we ask for is commitment and willingness! Ages from 16 to 99 male or female.
Bell ringing is more about the skill of control over the bell and not strength!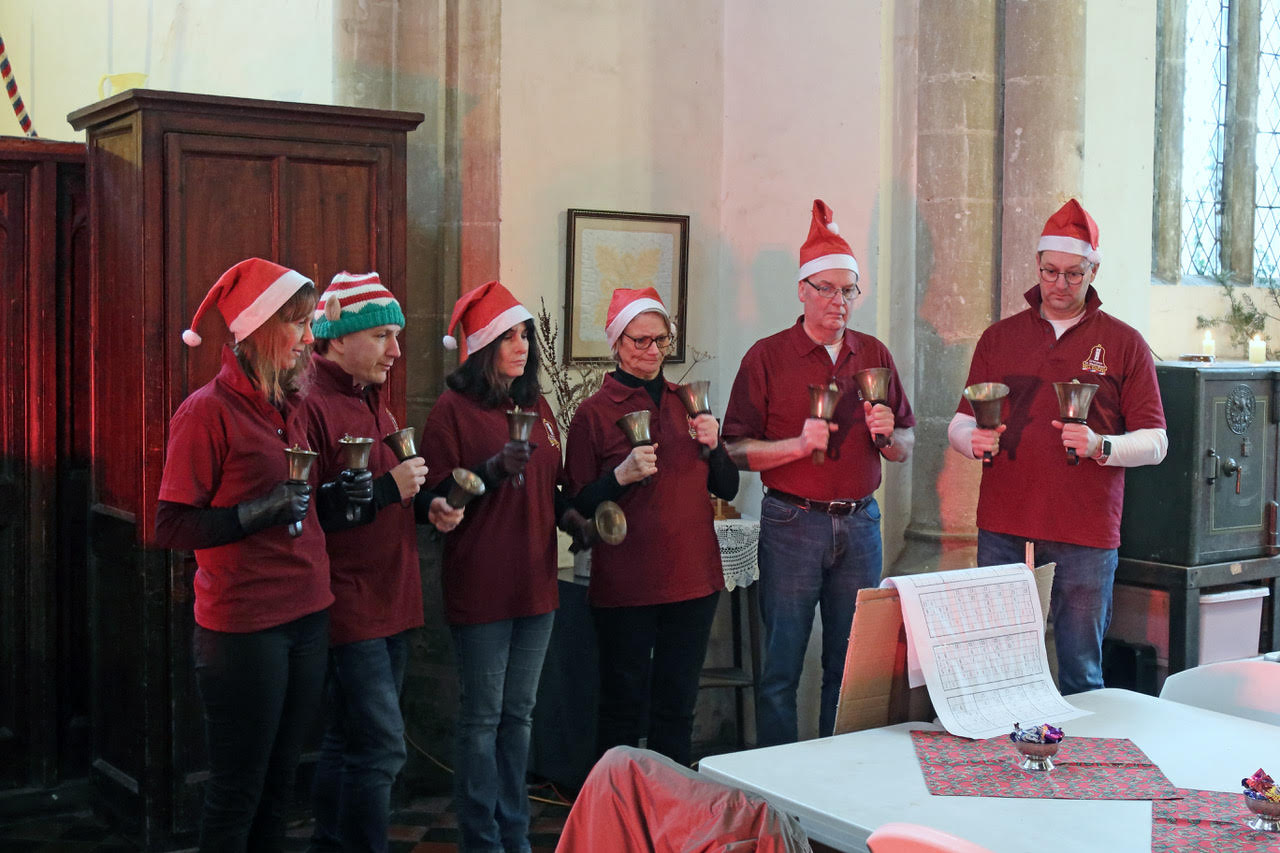 Perhaps start off small then move on to the big bells!
( photo. courtesy Maria Gaskell)

Contact Mike Harding first : Tel: 01485 600041 or 07846574230 or mike.harding1973@yahoo.co.uk or Dale Gadgen is the next best contact for the Massingham side on 01485 520598.
There is a wonderful guide for bellringers at https://dove.cccbr.org.uk/home.php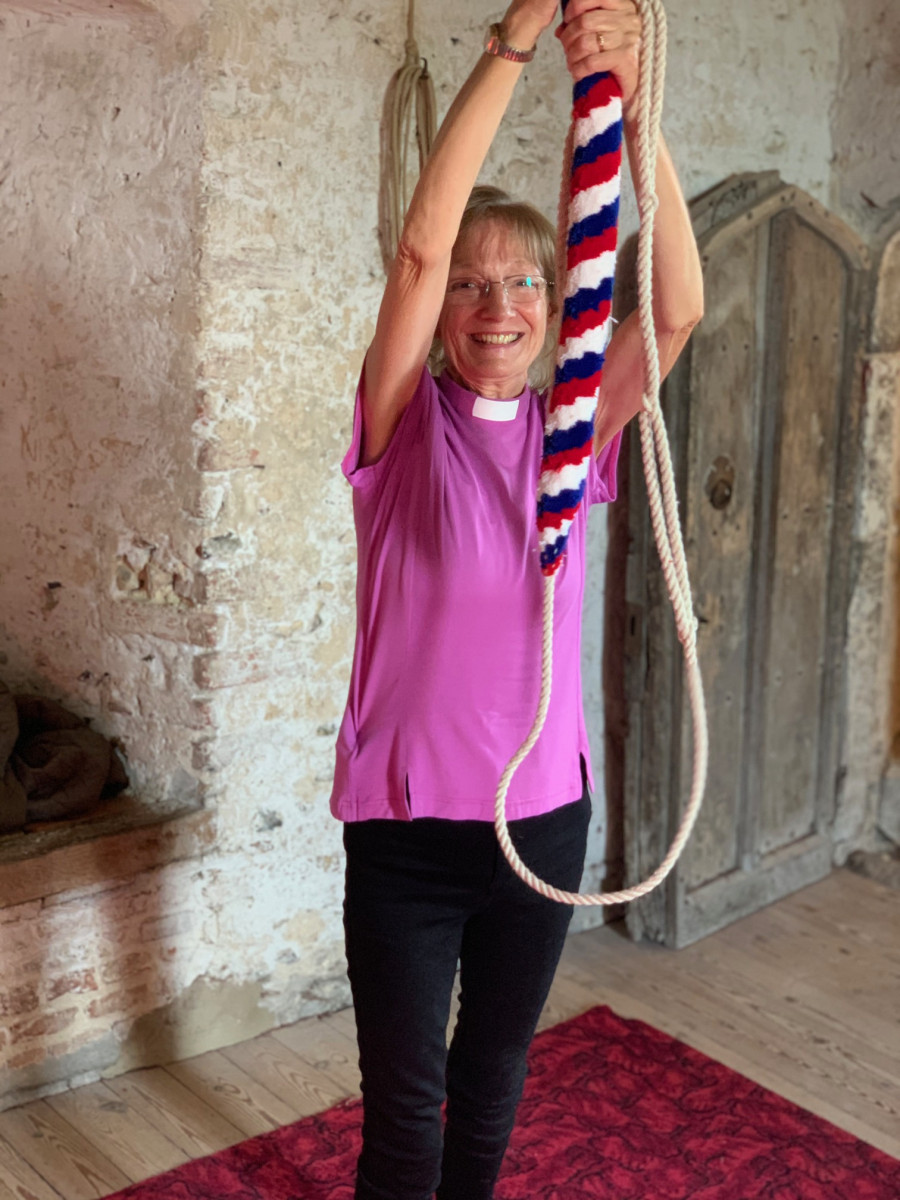 Bell Ringing day August 2019.
On the 17th August we held a tower open afternoon at St Botolphs, Grimston which turned out to be a very successful event attracting approximately 30 visitors from our local community.
Our guests had an opportunity to climb the steep spiral staircase up the 97 ft tower and see firsthand the bells being rung by our team of bell ringers and then to climb further up to the bellfry to see the six Bronze bells. Some visitors had the opportunity to chime a bell and feel the weight, the lightest (treble) being 32 stone and the heaviest (tenor) being over 72 stone.
Later on in the afternoon we had a visit in the ringing chamber from our team rector Jane who was brave enough to try her hand at bell ringing which in her own words "is not as easy as it looks". If anyone over 16 with a reasonable level of fitness would like to learn to ring the bells please phone the tower captain to discuss this.
There were refreshments available in the church; we would like to thank Jan and her team for giving up their afternoon to keep an endless supply of tea and coffee going. Also thank you to anyone who kindly donated cakes and biscuits. Donations were made for refreshments which will go toward the Bell fund, the bells, which were cast in 1816, and their ropes need occasional maintenance and repair. We purchased three new bell ropes earlier this year and are waiting for the others three to be made.
Ring them bells so the world will know that God is one ( Bob Dylan)