Remembrance Sunday is a day to commemorate the contribution of
military and civilian servicemen and women in the two World Wars and
later conflicts.
.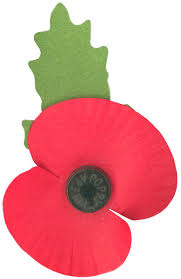 "They shall grow not old, as we that are left grow old:
Age shall not weary them, nor the years condemn.
At the going down of the sun and in the morning,
We will remember them."
You can see a short video based on Laurence Binyon's poem "For the Fallen" by clicking here.
We remember especially the men featured on our War Memorial :
We are indebted to Ian and Steph Hall for their dedicated work researching the men of Congham who fell. You can read of their lives and their heroic ends in their booklet "The Way We Were" © .
This opens up in a new page if you click here.

1914 - 1918
FFOLKES,

William Rupert Compton

Killed in action 30th December 1917. Age 19. Son of Mrs. S. C. Ffolkes, of Congham Lodge, King's Lynn. Buried in HERMIES HILL BRITISH CEMETERY, Pas de Calais, France. Grave I. F. 43.

( His name is commemorated on Hillington Church's war memorial.)

2nd Lt.

5th Battalion attached 1st Battalion, King's Royal Rifle Corps.

Coomber, H

Pte.

East Kent Regt.

Grief, H E

Pte.

Norfolk Regt.

Goodburn, W

Gunner

Royal Field Artillery

Harper, T A

Pte.

Norfolk Regt.

Rallison, H

Pte.

Middlesex Regt.

Smith, E

Pte.

Royal Dublin Fusiliers

Smith, F

Pte.

Northumberland Fusiliers

Smith, R M
HMS Vanguard sank at Scapa Flow after an explosion. There is more click here.

Chief Petty Officer

HMS Vanguard

1939 - 1945
Elwes, John Henry

Captain

Royal Norfolk Regt. 2nd. Battn.

Mason, Stanley Robert
There are more details about HMS Arethusa and L/S Mason here

L/S

HMS Arethusa

Utteridge, Wilfred

Pte.

Royal Norfolk Regt. 7th Battn.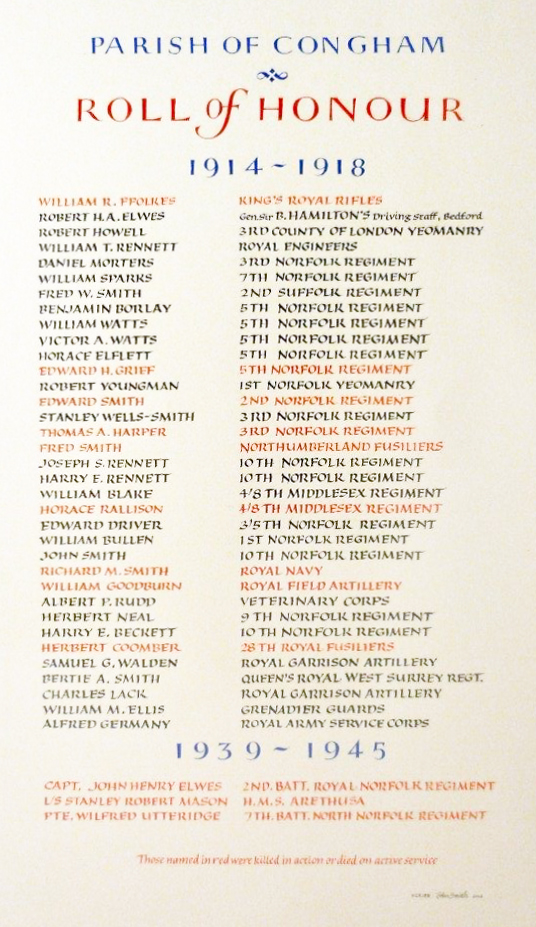 In 2016, a new Roll of Honour was displayed in the Church in commemoration of 100 years after the Battle of the Somme during an exhibition entitled "Hear My Cry". The Roll was hand calligraphed by John Smith shown in the photo. below.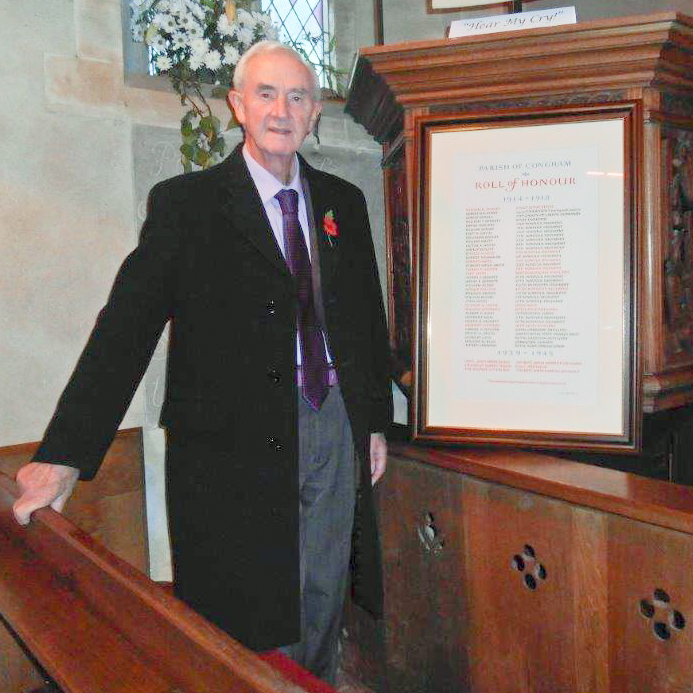 The names in red are the men killed in action or died on active service.