News & Notices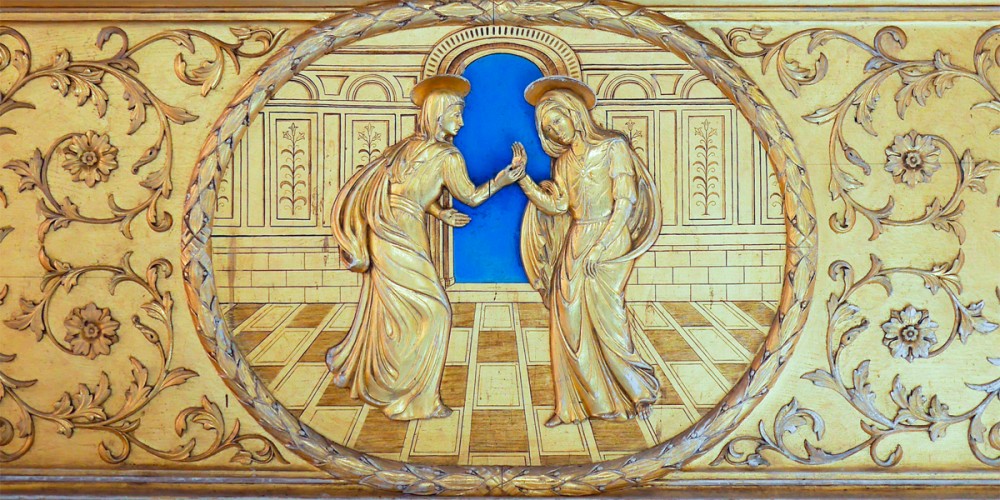 Gt. Massingham
Mary & the Angel Gabriel
"I bring you good news that will cause great joy for all the people." Luke 2.10
---
From this month's Church Registers
| | | | |
| --- | --- | --- | --- |
| 16/11/2018 | Wedding | St Mary, Gt Massingham | Thomas East & Harriett Segasby |
| 08/11/2018 | Funeral | St Botolph, Grimston | Marjorie Bushell |
| 02/11/2018 | Funeral | Mintlyn | Bernard Stratton of Congham |
| 07/10/2018 | Baptism | St Nicholas, Gayton | Jessica Louise Watts |
| 07/10/2018 | Baptism | St Nicholas, Gayton | Oscar Benedict Corner |
| 30/09/2018 | Baptism | St Nicholas, Gayton | Logan Charles Addison |
| 30/09/2018 | Baptism | St Nicholas, Gayton | Haileigh Zia Addison |
| 19/09/2018 | Funeral | Mintlyn | Graham Harris of Ashwicken |
| 18/09/2018 | Funeral | Mintlyn | Ronald Gurney of Ashwicken |
| 15/09/2018 | Wedding | All Saints, Ashwicken | Ian Savage & Katie Collison |
| 15/09/2018 | Wedding | St Nicholas, Gayton | Ashley Colvin & Alexa Barge |
| 06/09/2018 | Funeral | St Botolph, Grimston | Valerie Warner |
| 04/09/2018 | Funeral | Mintlyn | Cherryl Davey of Grimston |
| 01/09/2018 | Wedding | St Botolph, Grimston | Steven Parkes & Rachel Ackers |
An archive of previous month's entries in the Church Registers is on the

"From the Church Registers"

page
---
Red Notes .......................
St Botolph, Grimston ... First...a very big thankyou to the current vacuuming crew. Our church always looks well cared for but it is a big job...and none of us are getting any younger. If anyone out there can spare an hour every 8 weeks or so..we would be so pleased to add you to the number. A vacuum cleaner is provided...all that is required is some stamina.There will be a drinks party on Dec 7th so that vacuumers can get to meet socially instead of just being a name on a roster. Please contact me for details. The new roster is out but please arrange a swap if your date doesn't suit. Judith Gough.
St Lawrence, Harpley ... Harpley Open Gardens was better than ever with 8 gardens open and a Church full of flowers. Over 2 days 171 people wandered around the village, enjoyed the beautiful sights on offer and paused for nrefreshment in teh Church. Special thanks go to the eight gardeners, without whom the weekend would not be possible and the totalm raised was an amazing £2,236.35.
St Mary's Great Massingham ....SHOEBOX APPEAL 2018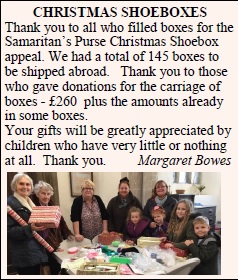 St. Andrew's, Little Massingham Roof Appeal....St. Andrew's Church has been targetted by lead thieves, once again, and is appealing for support in raising funds to replace the roof. The roof was replaced back in 2006 and was first attacked by lead thieves back in 2014. Since then there has been a further attack and then this January 2017, another attempt was made to steal the lead from over the North Aisle. The thieves abandoned the building but completely damaged the roof. The lead is there and can be sold but the cost of replacement is huge. Thanks go to all those involved who helped to secure the building and prevent further damage. Special thanks to Neil from "Top Speck" who was just wonderful. He called in "favours" and between them all they got the rolled lead down and in his trailer and off to the scrap merchants. They managed to get tarpaulins on both roofs to make it as watertight as possible.
Pictures of the damage are courtesy of Stephen Hudson.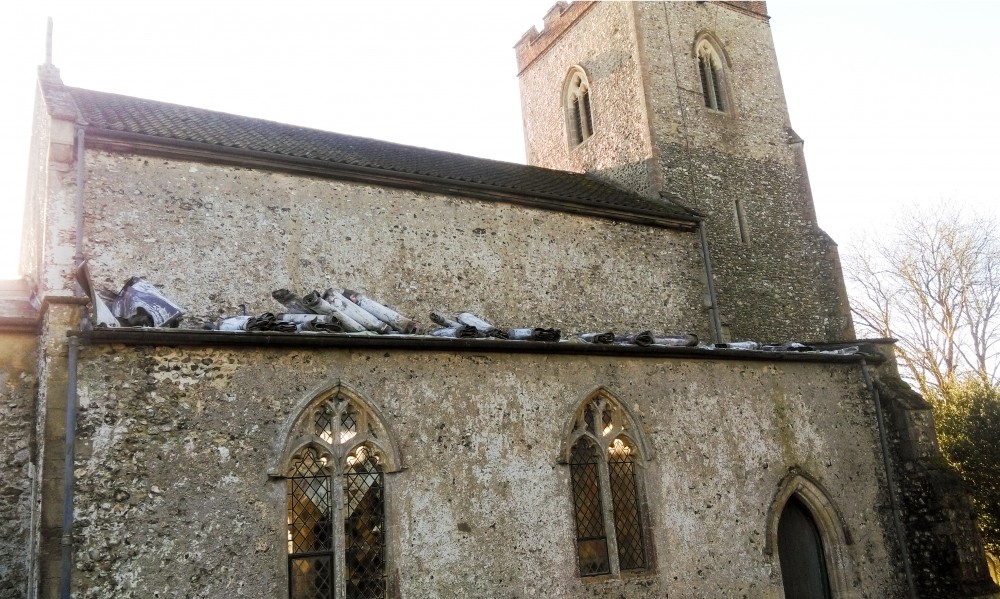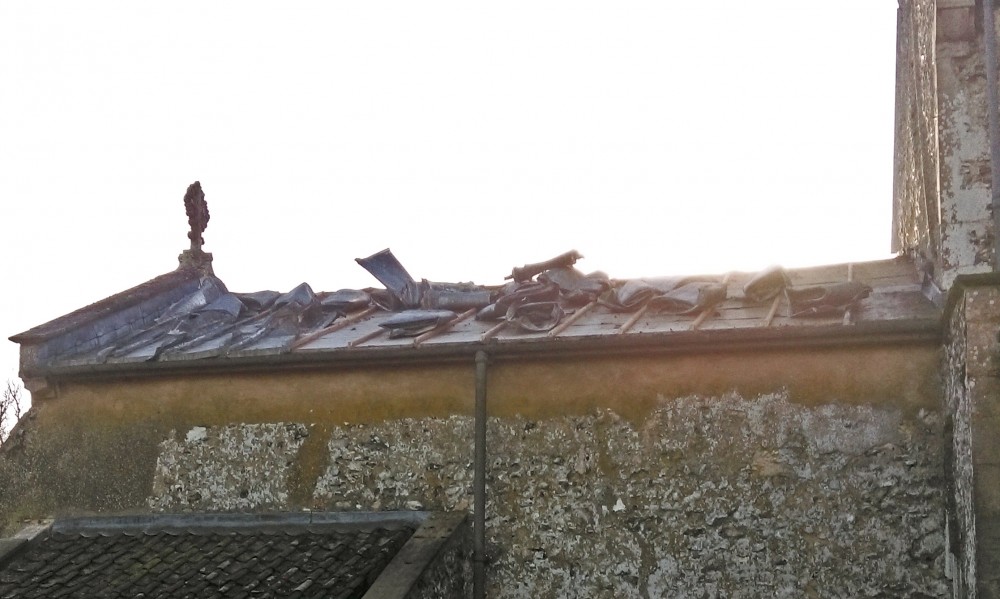 The cost of the repairs is frightening but every penny will help. You can see various ways to donate via the web site click here. If you use BTdonate, then add LM Roof in the message area and that donation will be allocated specifically to the roof appeal.
A special service for the Benefice to support St Andrews Church is being planned and there will be further fund raising appeals. The work needed gets ever more urgent and your help will be much appreciated. Thank You.
St Mary's, East Walton. Congratulations everyone in East Walton. We are delighted to inform you that we have been
awarded a huge Heritage Lottery Fund grant to enable urgent work to be undertaken to preserve our Church for generations to come. Stage 1 is complete and we are now appealing for funds for Stage 2. Many thanks to The Heritage Lottery Fund who are elping make all this work possible.

Don't forget our own village Lottery. There have been lots of monthly winners. Rachael, Rachel, Laurence, Anne, Chrissie and Rosie. A great way to help towards the Church for £5 a month. See Maureen for details.
---
---