Little Fishes
LITTLE FISHES at St Botolph's Church, Grimston



LITTLE FISHES IS RESTING NOW OVER THE WINTER MONTHS. LOOK FOR NEWS OF RE-OPENING IN SPRING 2017
You are the one who put me together inside my mother's body, and I praise you because of the wonderful way you created me. (Psalm 139:13, 14)

We are a group created for you and your children to continue the Christian journey we started together at their baptism. Parents and carers of children who have not been baptised are also very welcome.
Little Fishes is for all local pre-school age children from birth and their parents / carers. We meet every Monday from 9.30 am to 11.30 am in St Botolphs Church, Grimston. £1.50 for one child and 50p for each additional child.
Welcome to Little Fishes Playtime
Everyone is welcome throughout the group and we welcome parents / carers to collect older siblings from school and return with them for the craft activity.
We meet throughout the year and older siblings are welcome to the whole group during the school holidays.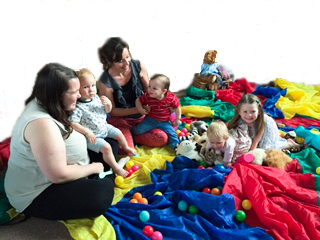 Our day begins with free play followed by circle time including stories, songs, rhyme time and prayer time. We include the use of parachutes, puppets and instruments for sensory stimulation.
Circle time is followed by snack and craft time.

The group is structured to follow the Early Years Foundation Stage and will help develop children so please join in with the activities and use them at home.
Arrival .
We have a register by the door as you arrive. Please sign in and out and ensure the door is closed behind you.
This new journey that God is taking us on together may be daunting the first time. We will have a welcome time at the beginning of each circle time.
Responsibilities.
Little Fishes Playtime is an informal group where children are free to express themselves during the activities. However, the children remain your responsibility at all times. We expect everyone to support their child throughout the group. Please be aware that some toys and equipment are for children aged 3 and above. Please ensure children are well supervised around the steps and platforms.
Illness.
If your child is ill please keep them at home. Please do not bring them if they have had sickness or diarrhoea within the last 48 hours or a temperature within the last 24 hours. Please refer to NHS Choices www.nhs.uk for current guidelines for any other contagious illnesses. If your child becomes unwell during the session you may be asked to take them home.
Snacks.
We provide tea / coffee and biscuits for the adults and healthy snacks for the children. Please indicate if you would like tea or coffee on the register when you sign in and please ensure you keep them away from children. Please ensure that food and drink is consumed at the rear of the Church. Please record any known allergies on the registration form. Please ensure your child washes their hands prior to having their snack.
Toilet.
We have a toilet with a changing table and mat, a child's toilet seat, a potty and a wash hand basin with step. We do not have a nappy bin so please take your nappies home with you.
Registration.
Please complete a registration form so we have emergency contacts and details of other medical conditions or needs your children may have.
The registration form includes a section for photography during the group. Please complete appropriately.
Volunteers.
Little Fishes is a volunteer led group and a wonderful local group for fellowship and Christian growth. It is the only pre-school group of its kind in the area. If you would like to help in any way we will be delighted.

Little Fishes runs throughout the year including during school holidays and although primarily for pre-school age children, older siblings are very welcome. Please come along and enjoy the fun. We would also like to extend our invitation to the older generation who might like to come along for tea / coffee, cake, fellowship and just enjoying some time watching the children play.

Contact Us
LITTLE FISHES IS RESTING NOW OVER THE WINTER MONTHS. LOOK FOR NEWS OF RE-OPENING IN SPRING 2017
We meet at St Botolph's Church, Grimston on Mondays 9.30 - 11.30 am.
Jane: 07813 104 519 or email: jhkrcr@btinternet.com
or Gemma: 07962 227 007